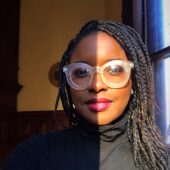 Monica O'Neal
Clinical Psychologist & Relationship Expert
I'm Monica O'Neal and I'm a Harvard-certified Clinical Psychologist and Relationship Expert. Since graduating from top East Coast schools in the field of Psychology, I've been working for almost 17 years in private practice to help people with their relationship issues. Mostly, they address me in case of tough breakups, marriageability, commitment, and infidelity issues. Besides my practice as a Relationship Expert, I also worked as a lecturer and Staff Psychologist at Harvard walls. 
Besides these two occupations, I'm also a Media Consultant. My topics to work on in the media include mental health and the psychology of relationships. I was happy to appear on the pages of "Cosmopolitan", "BuzzFeed", "Marie Claire", and "Women's Health" to name a few. These news web sources helped me do the thing I love the most: explaining complicated psychological concepts to a wide audience of young women across the nation. 
I also appeared several times on AMP 103.3 Radio's "The TJ Show" with my opinion on various terms of relationships. This opportunity allowed me to reach out to numerous listeners of the radio and give them food for thought regarding their love, friendship, and work relationships.
Despite the fact I adore my job so much, I also can't live without my favorite activities during my free time. I prefer cycling and pilates studios to develop a better mind-body connection and become an even more evolving personality every day. What I'm trying to do now is transition into a harmonious human being who lives a colorful and well-rounded life. 
Primary Role:

Clinical Psychologist

Secondary Role:

Relationship Expert 

Education: 

- Bachelor of Arts in Psychology—University of North Carolina at Chapel Hill (1995-1999)

- Doctor of Psychology in Clinical Psychology—The Georgetown University (2001-2005)

- Post-Doctoral Fellow in Clinical Psychology—Harvard Medical School (2005-2007)

Experience:

 

- Licensed Clinical Psychologist & Relationship Expert Private Practice—Back Bay, Boston (2007-current)

- TV, Film, and Media Consultant—Greater Boston Area (2009-current)

- Story Consultant & Associate Producer "My Father Muhammad Ali: Untold Story"— Verdi Productions (2020-current)

- Intimacy Coordinator—Verdi Productions (2021-current)

- Lecturer—Harvard Medical School (2005-current)